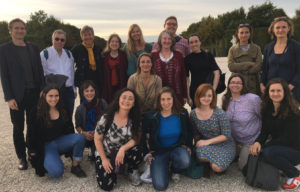 Micro-phenomenologists leaving Versailles
We spent the afternoon in the Olafur Eliasson exhibition creating autoelicitations of the experience, later doing further autoelicitations, elicitation interviews of each other, and creating summary results for the artist. The project was especially appropriate for micro-phenomenological research because the artist's work was designed to engage participation and awareness of viewers. We worked together to report subtle levels of inner response and engagement.
This image captures the ease of being that flowed from our experience. What the image doesn't show is the team's earlier half hour fall into silence after play with mists and rainbows in the final installation, The Fog Assembly.